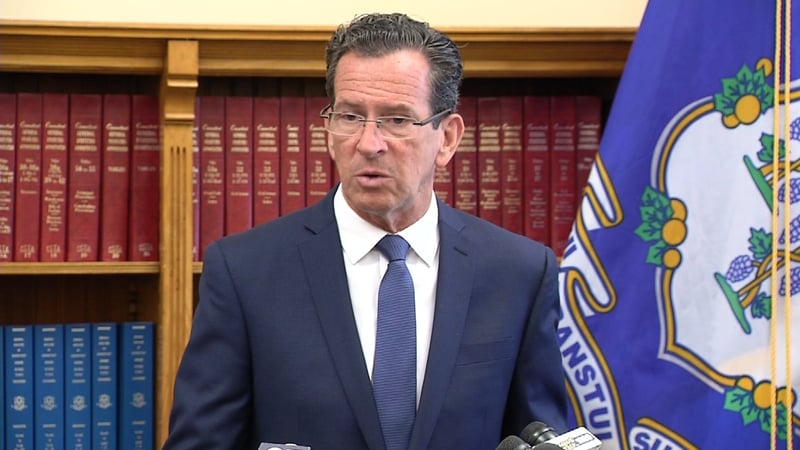 Gov. Dannel Malloy. (WFSB file)
HARTFORD, CT (WFSB) -
Connecticut's governor released a preview of what he called a new compromise biennial budget proposal.
Gov. Dannel Malloy said he will offer it to the members of the Connecticut General Assembly on Friday.
He said the modified proposal is based on the state living within its means, prioritizing services based on need and other considerations.
Some of the specific changes include:
Accommodating an increase of more than $136.8 million in fiscal year 18 and $89 million in fiscal year 19 in various municipal aid over Malloy's revised May 15 budget proposal and more than $897 million in fiscal year 18 over the current Executive Order Allocation Plan.
Phasing-in a progressive education funding formula, thereby smoothing the transition for communities that will experience a shift in aid.
Asking cities and towns to contribute only the employer share of educator pension payments for their current employees, and phasing in those payments over a two-year period. In comparison, Malloy's original budget proposal would have required towns to pay one-third of the full actuarially determined employer contribution, which includes the unfunded liability. Relative to Malloy's original proposal, these changes reduce the amount to be paid by municipalities by $315.7 million in FY 2018 and $231.2 million in FY 2019.
Streamlining several town aid grants making it simpler and more transparent and allow the state to bring more resources to bear in struggling towns and school districts.
"It is imperative that leaders in state government come together and pass a biennial budget, one that continues to address Connecticut's real fiscal challenges head on," Malloy said. "The reality is that in an extremely difficult budget year, no one is going to achieve all of their priorities. There are no easy answers left or rabbits that we can pull out of a magical hat. We have to meet one another in the middle and make difficult compromises, and we do it in a way that stabilizes the state's finances over the long-term. That's what my budget proposal seeks to achieve."
Malloy said his administration has been engaged in conversations with legislative leaders as well as town officials and others regarding the budget.
Copyright 2017 WFSB (Meredith Corporation). All rights reserved.