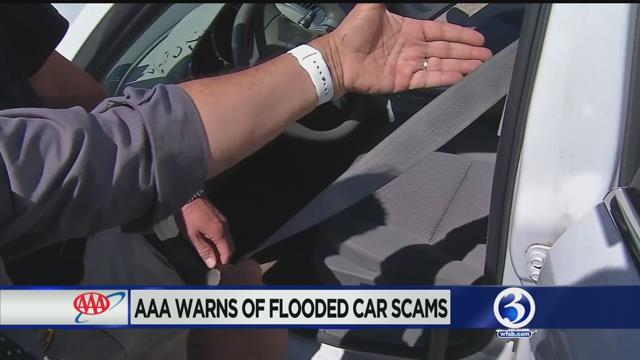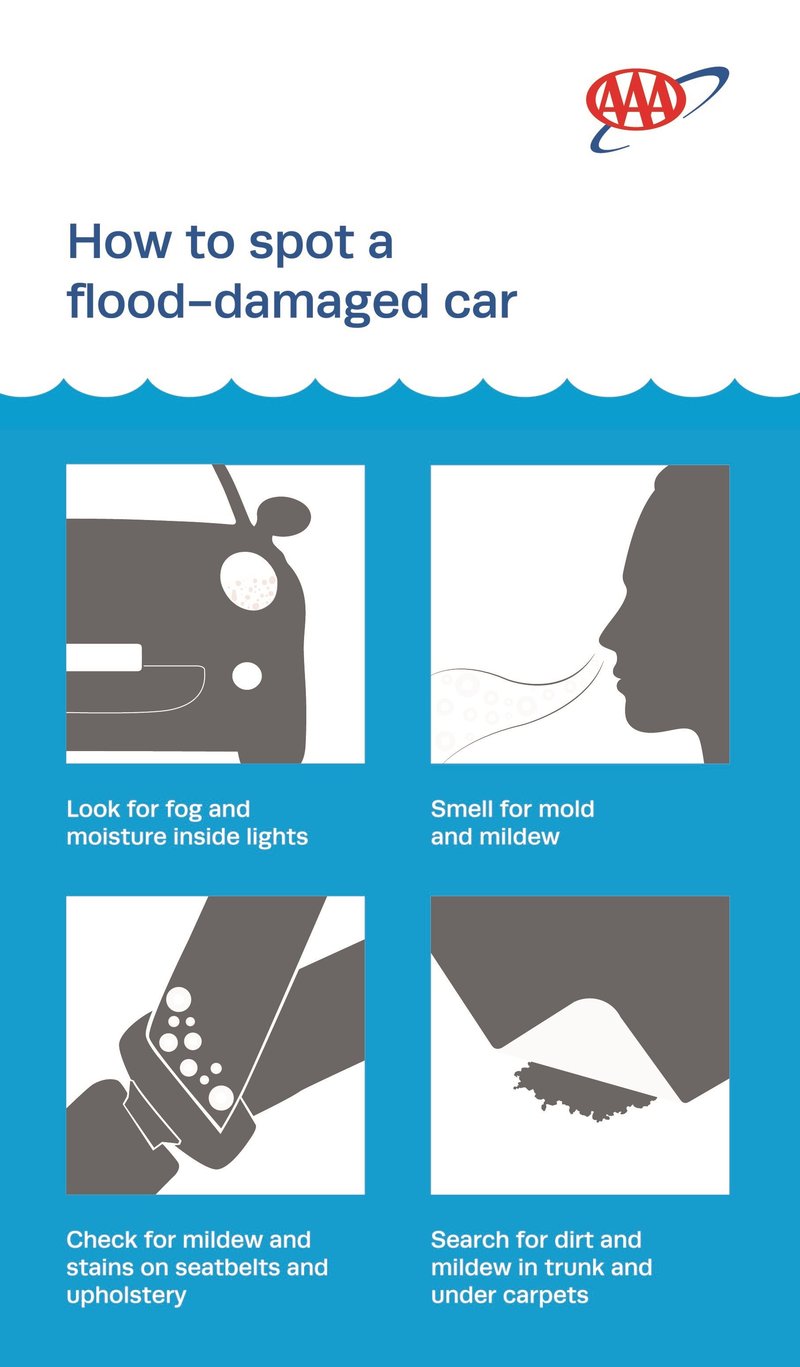 AAA officials explain how to spot a flood-damaged vehicle. (AAA)
HARTFORD, CT (WFSB) -
Experts said to be on the lookout for flooded cars following Hurricanes Irma and Harvey.
It is estimated that nearly a million cars were ruined by Harvey alone.
AAA is warning that scam artists will buy the damaged vehicles, clean them up and try to resell them.
"There is no doubt that the used car market will be flooded with some of these vehicles" Amy Parmenter, spokesperson for AAA in Greater Hartford said in a statement on Thursday. "Buyers with an untrained eye could purchase a flood-damaged car that seems to run great but they'll pay a steep price for the damage done soon thereafter".
Experts said to look for the following signs of flooding:
waterline under the hood, undercarriage and bumpers
mud and debris inside the cabin and trunk
signs of rust inside the vehicle
fogging inside the headlights and taillights."
the scent of disinfectants or cleansing agents used to cloak musty smells, mold or mildew
carpet or floor mats with traces of wetness
signs that the carpets, seats and interiors were recently shampooed
They also said to always do a background check and have a mechanic inspect a used car before you buy it.
"Flooded cars are not always totaled, and 50 percent are eventually resold. Always purchase a vehicle history report or obtain a free VIN report for any vehicle suspected of having a watery past," Parmenter added.
Before buying a vehicle, use VINCheck by clicking here.
Experts also suggested the following tips when purchasing a vehicle:
Obtain a CARFAX Vehicle History Report – This report can potentially reveal if the vehicle has been involved in a flood, major crash, fire, or uncover odometer fraud.
Conduct a title search of the vehicle. Check the VIN number at VINCheck
Check the vehicle's VIN with appropriate government agencies or your state bureau of motor vehicles.
Analyze the ownership pattern for any new or late model vehicle with no lien holder.
Be careful about purchasing a used vehicle from an individual running a newspaper ad and using a cell phone number. Check for title or registration histories indicating the car was in a flood area.
Look for information from a vehicle's current title, including the vehicle's brand history. "Brands" are descriptive labels regarding the status of a motor vehicle, such as "junk," "salvage," and "flood" vehicles.
Look for any reports of the vehicle being transferred or sold to an auto recycler, junk yard, or salvage yard. Select a reputable car dealer when buying a used vehicle in the aftermath of disasters.
Look for the latest reported odometer readings to detect odometer tampering or fraud.
If possible, have your insurer check to determine if the vehicle was previously insured in a flooded area.
Trust your instincts. If you don't like the answers or the deal sounds too good to be true, walk away
Copyright 2017 WFSB (Meredith Corporation). All rights reserved.