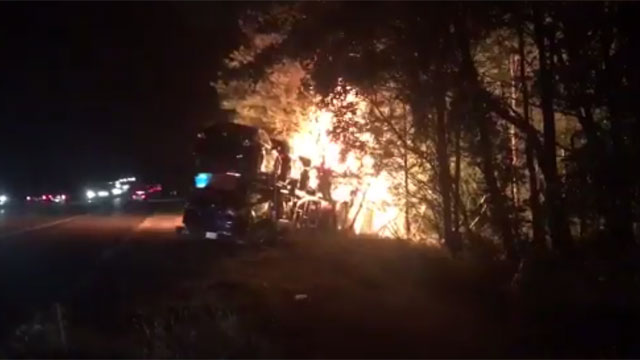 A car carrier caught on fire on Interstate 84 in Ashford on Friday, (CT State Police)
ASHFORD, CT (WFSB) -
A car-carrier caught on fire after a crash on Interstate 84 in Ashford on Friday night.
The crash was reported on the eastbound side of Interstate 84 near Exit 73 near the Union town line around 9:30 p.m. Upon arrival, the car-carrier was fully involved, state police said
The driver of the car-carrier was able to get out of the vehicle, Tolland County Dispatch said.
The driver suffered minor injuries and was rushed to Johnson Memorial Hospital in Stafford Springs, Tolland County Dispatch said.
The fire caused "significant property loss," according to Tolland County Dispatch.
Drivers are being asked to drive carefully in the area of the crash. To stay ahead of any delays, click here.
Members of the Connecticut Department of Energy and Environmental Protection were called to the scene. Clean was expected to take several hours.
The Willington Fire Department was called to the scene for mutual aid and they brought a tank.
The cause of the crash is under investigation.
Copyright 2017 WFSB (Meredith Corporation). All rights reserved.