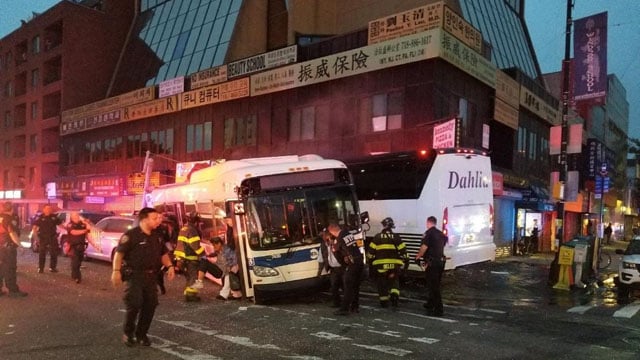 (New York City police)
NEW YORK CITY (AP) -
Officials in New York City say a collision between a city bus and a tour bus at a Queens intersection has left three people dead and others severely injured.
The New York Police Department says one person died at the scene of the 6:15 a.m. crash on Monday. Two others died at hospitals. Officials say more than a dozen others have been injured.
The collision occurred at an intersection in the Flushing neighborhood.
One of the buses also hit a building. Firefighters have extinguished a blaze there.
A photo tweeted by the NYPD's 109th Precinct shows the buses side-by-side facing opposite directions, with the city bus slightly tilted to one side.
A Fire Department photo on Twitter shows firefighters responding outside the building.
Copyright 2017 The Associated Press. All rights reserved. This material may not be published, broadcast, rewritten or redistributed.