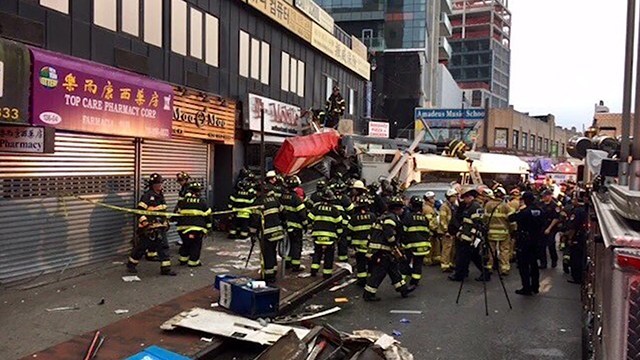 (NYPD, FDNY)
NEW YORK (AP) -
The tour bus driver killed in the collision between a city bus and a charter bus in New York City had been fired as a city bus driver.
A Metropolitan Transportation Authority spokesman says 49-year-old Raymond Mong was fired from the transit authority in 2015, before he went to work for the charter bus company.
Sources told WCBS that the cause was drunk driving and he was arrested for a DWI in New Haven.
Two other people also were killed in Monday's crash in Queens: a pedestrian on the sidewalk and a passenger on the city bus.
Sixteen other people were hurt, some of them seriously.
The wreck, which was captured by a security camera, ripped away the facade of a fried chicken restaurant and started a small fire.
The video appeared to show the charter bus racing through the intersection without applying its brakes.
Copyright 2017 The Associated Press. All rights reserved. This material may not be published, broadcast, rewritten or redistributed.