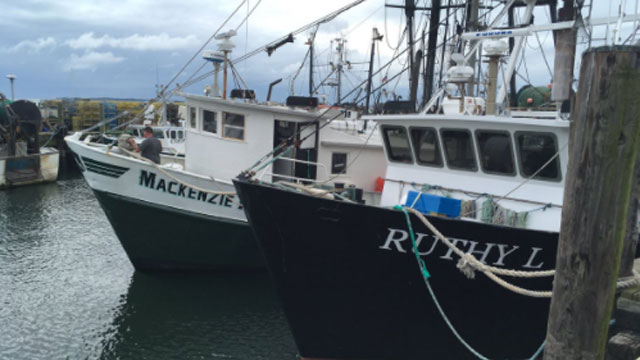 Offshore storm delivers deals st the fish market. (WFSB)
STONINGTON, CT (WFSB) -
The storms have forced commercial fishermen to seek a safe harbor in Stonington.
Channel 3 visited the borough of Stonington to see the impact on the fish market. The fishing fleet was in on Tuesday morning. Their holds are empty and will stay that way until they go back out next week.
Ocean-going fishing vessels such as the Mackenzie, Paige 2 out of Belford, New Jersey, have tied up to the docks in Stonington to stay clear of the storm.
"It means a lot of people out of work it means they're standing around waiting," Paul Butterfield, who is a fish buyer, said. "They can't make no money not catching fish."
Commercial fishermen got in late Monday night to unload their catch on Tuesday morning. Fishermen said customers can expect a deal at the market only for a day or so
"It goes from nothing to too much at one time because everybody's trying to get back to work," Gary Stone, who is a commercial fisherman, said.
While their boats are in, fishermen said they will work on the boats and make repairs. They will be getting them ready for the next trip.
Copyright 2017 WFSB (Meredith Corporation). All rights reserved.