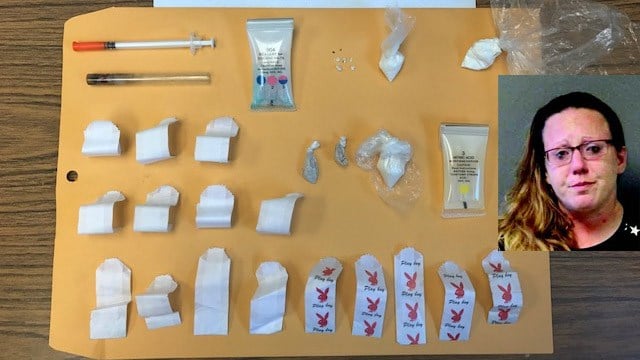 Cara Baril faces drug charges after she was found walking on Route 2 in Colchester on Monday. (State police)
COLCHESTER, CT (WFSB) -
A woman found walking on Route 2 in Colchester had several drugs on her, according to state police.
Troopers said they arrested 28-year-old Cara Baril of New London after reports that she had been walking on the eastbound side of the highway by exit 15 around 3:40 p.m. on Monday.
When they arrived to the area, they said they found Baril and determined that she was in possession of fentanyl, cocaine, crack cocaine, pure heroin, heroin bundles and drug paraphernalia.
They said they seized about 2.8g of fentanyl, 3.5g of cocaine plus crack cocaine, 7.2g of pure heroin, 1.5 bundles of heroin, a needle and a crack pipe.
Baril was charged with illegal possession of narcotics and possession of drug paraphernalia.
She was released on a $10,000 bond.
State police said she's scheduled to face a judge in Manchester Superior Court on Oct. 13.
Copyright 2017 WFSB (Meredith Corporation). All rights reserved.