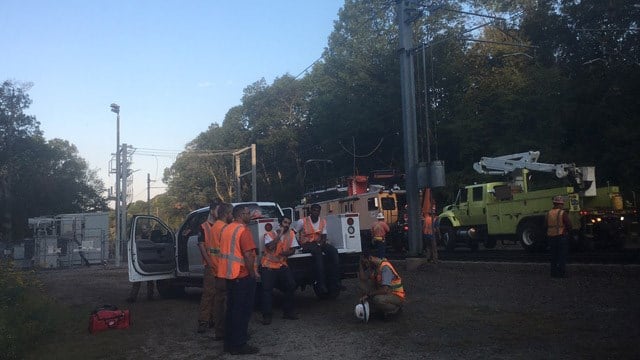 A rail repair worker was shocked while fixing lines in Guilford, according to Amtrak police. (WFSB)
GUILFORD, CT (WFSB) -
A worker was shocked while making repairs to Amtrak-owned rail lines in Guilford on Thursday, Amtrak police said.
Firefighters said on Thursday morning that the investigation is underway along Leetes Road.
The Amtrak worker involved was hospitalized, but the person's condition is unknown, according to Amtrak police.
The Department of Transportation said Amtrak lines are affected. Trains were down to using one track.
Metro-North said there were no inbound trains from Shoreline East or Amtrak as a result of Thursday's incident.
Amtrak later told Eyewitness News that rail traffic was back to operating as scheduled.
The DOT said an incident happened when Amtrak workers tried to re-energize the catenary lines from an incident on Wednesday where a tree fell onto some wires. It caused a minor fire.
Wednesday's incident shut down Shoreline East service for hours from New London to New Haven, according to the DOT.
Eyewitness News has a crew on the scene.
Copyright 2017 WFSB (Meredith Corporation). All rights reserved.