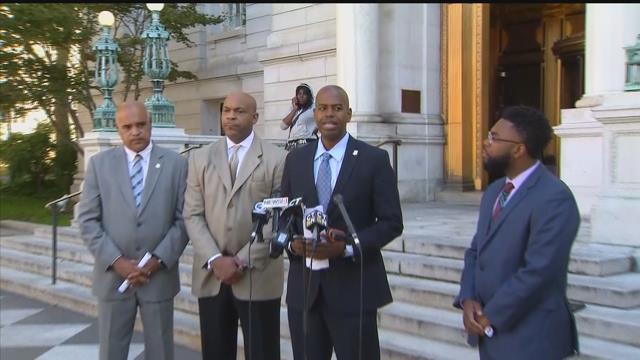 Democrats announce their support for Gov. Dannel Malloy's state budget veto. (WFSB)
HARTFORD, CT (WFSB) -
Some Democrats said they agree with the governor's veto of the Republican state budget.
Monday morning, the state's Democratic legislative delegation met on the steps of Hartford City Hall to announce its support for Gov. Dannel Malloy's veto.
The Democrats stated their opposition to a Republican budget which they said increases taxes on Hartford residents, businesses and entertainment venues while simultaneously sentencing Hartford to near certain bankruptcy.
Connecticut has been without a state budget since July 1.
Malloy vetoed the Republican budget last week, despite it making its way through both the state Senate and House of Representatives with supposed from both Republicans and Democrats.
He called it unbalanced and legally unsound.
Without a budget in place, municipalities are facing major cuts in state funding once again.
Nearly 120 school districts will either see their school grant funding dip to zero and experience massive reductions.
Stay with Eyewitness News for continuing coverage of the state budget crisis.
Copyright 2017 WFSB (Meredith Corporation). All rights reserved.