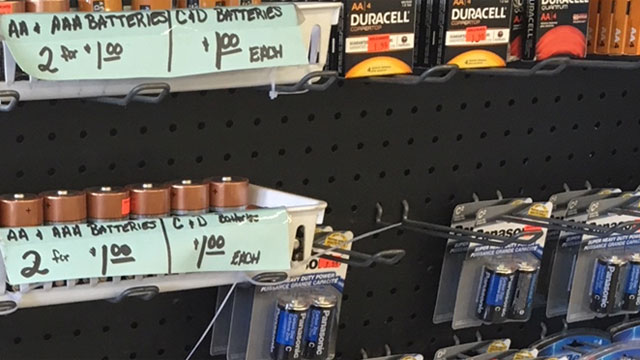 One lady buys $100 worth of batteries at Surplus Unlimited in Norwich. (WFSB)
NORWICH, CT (WFSB) -
Families in Connecticut are wiping out batteries and other hurricane relief supplies from local discount stores.
At Surplus Unlimited in Norwich, managers told Eyewitness News they've been inundated with Hispanic customers buying flashlights and other items to send to their families in Puerto Rico.
"A lot of crank radio's we've had now we're sold out. Then a gentleman had a couple this morning and a lady needed one to ship down to Puerto Rico to her family and he gave her one and it was so sweet," Surplus Unlimited store manager Susan Matera said. "Great generosity from all our customers have been amazing."
Customers are advised to check with the U.S. Postal Service or other agencies about what items can be shipped and how to pack them.
Copyright 2017 WFSB (Meredith Corporation). All rights reserved.