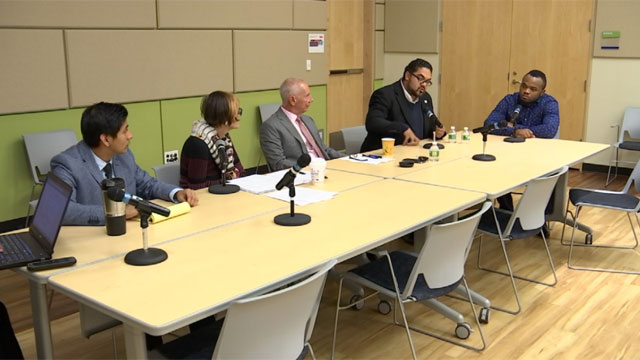 DACA students discuss their future with lawmakers and advocates in New Haven on Friday. (WFSB)
NEW HAVEN, CT (WFSB) -
As the fight continues in Washington, DC to protect so-called Dreamers, the DACA program was at the center of the conversation in New Haven on Friday as well.
A roundtable discussion was held at Gateway Community College on Friday morning about what comes next after President Donald Trump rescinded the program.
DACA students were able to apply for a renewal to protect them for two more years, that deadline was on Thursday.
Congresswoman Rosa DeLauro said now the focus shifts to getting the dream act passed, which would put further protections in place for Dreamers.
"What we need to do is create the external pressure on the Congress to move in a direction that says we have to extend the DACA program again with its rules and regulations," DeLauro said. "This is not a free ride."
"By removing DACA, they're removing our work permits and our permission to stay in this country and give back to our communities," DACA student Sergio Ramirez said. "And what does that say to the younger generations who are growing up in schools right now?"
DeLauro said a petition is currently circulating in U.S. Congress, so the Dream Act can get out of committee and come to a vote.
Copyright 2017 WFSB (Meredith Corporation). All rights reserved.