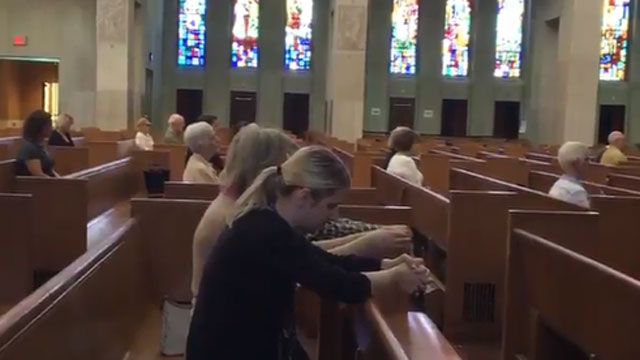 A prayer vigil was held in Hartford on Friday afternoon. (WFSB)
HARTFORD, CT (WFSB) -
Dozens of people from the Catholic community gathered in Hartford for a prayer vigil on Friday afternoon.
People poured into the pews at the Cathedral of St. Joseph's to honor the memory of the victims of the Las Vegas shooting.
"I was horrified to learn of the Las Vegas incident, especially being a music fan, thinking these people lost their lives just while watching a concert," David Elliott with the Office of Pastoral Planning said. "It's so tragic."
Rev. Michael Casey said the Catholic church's doors are open to anyone in need of God's comfort.
"We gather to pray," Casey said. "We gather to ask our Lord in a special way to help those who lost their lives to be with them to shepherd them to be with the families left behind, to be with the wounded to be with the people of Las Vegas at this time."
It was a moment to reflect and pray just five days after the tragic mass shooting. Catholics are also devoting personal time to pray the Rosary, all in hopes of sending love and peace where it is most needed.
"I see this situation, I just lift my hands up and I just pray from the heart," Linda Dasilva said.
The Cathedral of Saint Joseph has planned another special mass where they will take a moment to remember the lives lost in Las Vegas. The Mass of Remembrance is scheduled for Nov. 5 at 11 a.m.
Copyright 2017 WFSB (Meredith Corporation). All rights reserved.