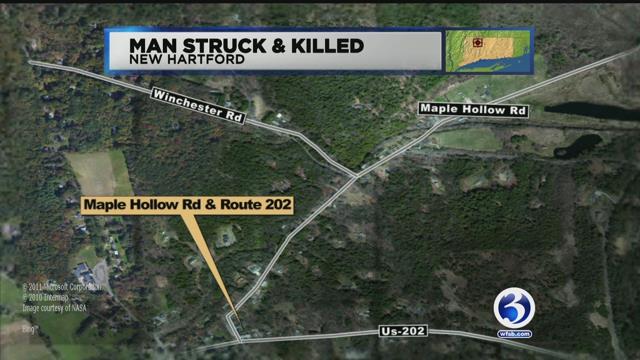 (WFSB)
NEW HARTFORD,CT (WFSB) -
A man died after state police said he was struck by a car in New Hartford early Sunday morning.
State police identified the victim as 43-year-old Michael Ropiak of Terryville.
Troopers said 22-year-old Ruth Riesbeck of Athens, OH was traveling westbound on Route 202 around 12:30 a.m. when her car struck Ropiak in the roadway at the intersection of Maple Hollow Road.
The victim was taken to Charlotte-Hungerford Hospital where police said he later died from injuries suffered in the crash.
Troopers described Ropiak as wearing black jeans and a dark green sweatshirt with a cross tattoo on one arm.
They asked anyone with information about what happened to call State Police Troop B at 860-626-1820.
The incident remains under investigation.
Copyright 2017 WFSB (Meredith Corporation). All rights reserved.