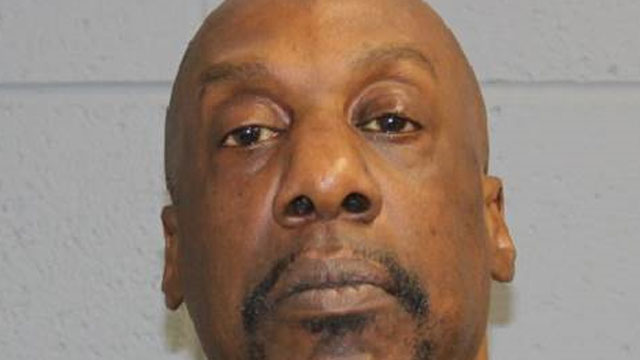 Keith Johnson was arrested after police said he tried to kidnap two 19-year-old women who were pumping gas in North Haven last month.  (North Haven Police Department)
NORTH HAVEN, CT (WFSB) -
A New Haven man was arrested after police said he kidnapped two 19-year-old women who were pumping gas in North Haven last month.
Police charged 53-year-old Keith Johnson with two counts of first-degree kidnapping as well as first-degree robbery, robbery of an occupied vehicle, first-degree threatening, and criminal possession of a firearm
The arrest of Johnson comes after police said Johnson approached two women pumping gas at a gas station on Washington Avenue on Sept. 29. Police said Johnson "brandished a handgun, and demanded money."
Police said Johnson "ordered the women into the car as he sat in the rear seat" after they gave him all their money. Johnson allegedly "pointed the gun at the driver and gave directions to travel north on Interstate 91."
One of the 19-year-olds drove until she told police that Johnson ordered her to the back seat. Johnson then "drove a short distance prior to letting both girls get out of the vehicle in a Hartford neighborhood."
Johnson was arrested on Monday. He is being held on a $500,000 bond and is expected to be arraigned at Meriden Superior Court on Tuesday.
Copyright 2017 WFSB (Meredith Corporation). All rights reserved.