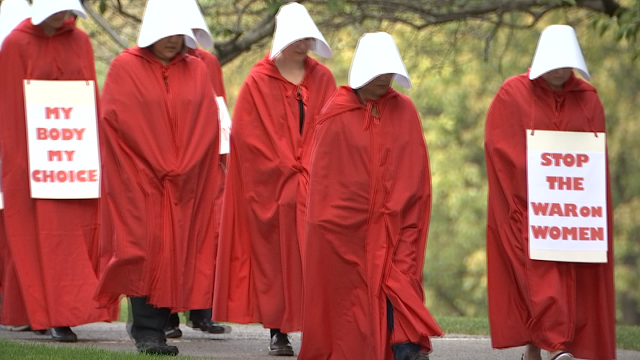 Protesters dressed from "Handmaid's Tale" take to the Capital
HARTFORD, CT (WFSB) -
A small group of women, outfitted in costumes inspired by Margaret Atwood's book, and now popular show, "The Handmaid's Tale" took to the Capital in Hartford on Saturday to speak out for equal rights.
The Connecticut group, of the nationwide "Handmaid's Coalition," is spearheaded by Shannan Todd, who told Eyewitness News that the demonstration was created to fight injustices toward women, the working class, and minority group across the country.
"In the current political climate, a lot of our rights as human beings have been eroded," described Todd. "And we are doing it to show there are a lot of who are not standing for it."
The march around Capital grounds took place on Saturday afternoon.
The group donning red capes, and large white hats said they were inspired by Margaret Atwood's 1985 dystopian novel that challenges the role of women in a near future.
Copyright 2017 WFSB (Meredith Corporation). All rights reserved.