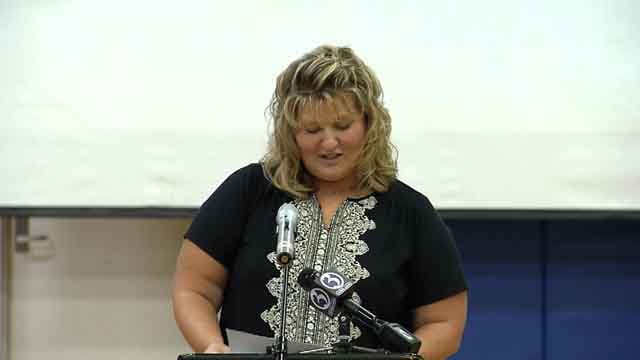 Mrs. Karen Mylly was selected as Connecticut's Paraeducator of the Year 2018. (WFSB)
COLCHESTER, CT (WFSB) -
There was a very distinct honor and surprise on Monday for a paraeducator in the Colchester School District.
A school assembly at Jack Jackter School welcomed the state's education commissioner and lieutenant governor to congratulate Mrs. Karen Mylly who was selected as Connecticut's Paraeducator of the Year 2018.
A paraeducator is an employee who assists teachers and/or other professional educators or therapists in the delivery of instructional and related services to students.
"To our wonderful Jack Jackter students-- You are all amazing individuals and you, all of you are the reason I am standing here today receiving this award," Mylly said.
The Anne Marie Murphy Paraeducator of the Year Award was created after a special education paraeducator who lost her life during the Sandy Hook Elementary School shooting while trying to save and comfort her first-grade students.
Copyright 2017 WFSB (Meredith Corporation). All rights reserved.