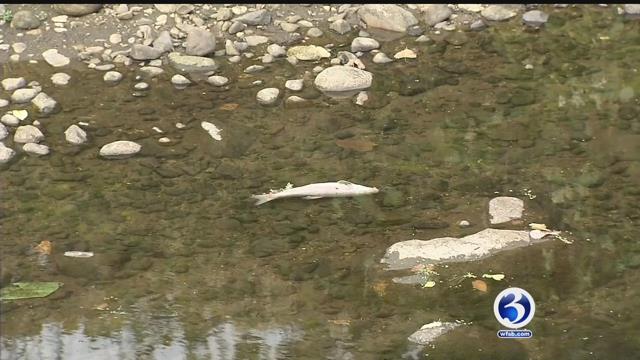 A sewage overflow from a construction accident caused a fishkill in the Naugatuck River. (WFSB)
NAUGATUCK, CT (WFSB) -
A construction accident has ultimately been blamed for a fishkill in Naugatuck.
Connecticut Fish and Wildlife officials from the Department of Energy and Environmental Protection said the Oct. 9 accident disrupted power supply at the Waterbury Water Pollution Control Facility.
They said that's how about 1 million gallons of untreated wastewater overflowed into the Naugatuck River.
Poor water quality may persist from Waterbury downstream until the area sees some rain, DEEP said on Wednesday.
DEEP is handling the investigation.
Dozens of dead fish were found floating in the river following the overflow.
Since then, people filed complaints over both the dead fish and a foul odor in the area.
DEEP thanked people for reporting the incident to it.
Copyright 2017 WFSB (Meredith Corporation). All rights reserved.