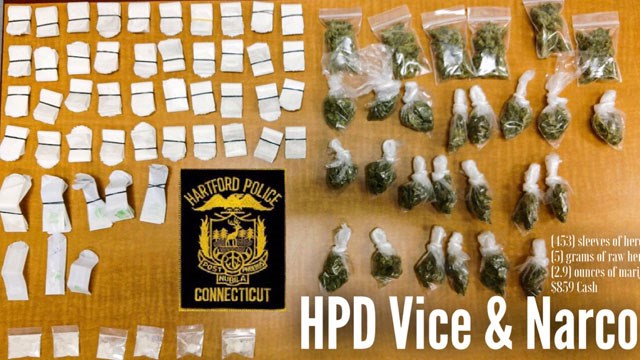 The following items were seized by police on Tuesday. (Hartford Police Department)
HARTFORD, CT (WFSB) -
More than 450 bags of Heroin were seized when police arrested three people in Hartford on Tuesday afternoon.
Police charged 27-year-old Michael Nieves, 21-year-old Ericson Gonzalez and 21-year-old Manuel Gonzalez with possession of narcotics/marijuana and possession with intent to sell of narcotics/marijuana.
These arrests come after police "observed a disturbance coming from inside" a motor vehicle on Maple Ave around noon. Officers, then, "safely made contact with the occupants of the vehicle."
Police said the officers "discovered a large amount of narcotics in plain view" and took the three men in custody. However, police said neither Nieves, Ericson Gonzalez and Manuel Gonzalez claimed ownership of the narcotics.
Investigators seized 453 sleeves of heroin, five grams of raw heroin, 2.9 ounces of marijuana as well as $859.
Copyright 2017 WFSB (Meredith Corporation). All rights reserved.