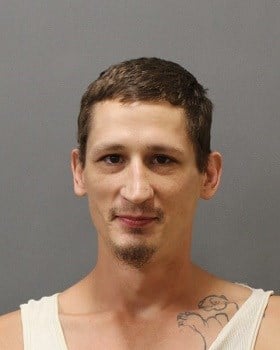 31-year-old Plainfield resident Ryan Johnson was arrested on Friday night after he fled from officers at his home. (Photo Courtesy of Plainfield Police Department.)
PLAINFIELD, CT (WFSB) -
The Plainfield Police Department said they have arrested 31-year-old Ryan Johnson of Plainfield after he fled from officers at his home on Friday night.
Police said they were running a wanted person check for Johnson at his home on Canterbury Road when he fled on foot out the back door of his home upon the arrival of the Officers.
Johnson was placed under arrest after a short foot pursuit and was charged with three counts of violation of probation, three counts of failure to appear, and interfering with a police investigation.
Police said Johnson is being held on multiple bonds adding up to $73,000 in total and he is scheduled to appear at the Danielson Superior Court on Monday at 8:30 a.m.
Copyright 2017 WFSB (Meredith Corporation). All rights reserved.