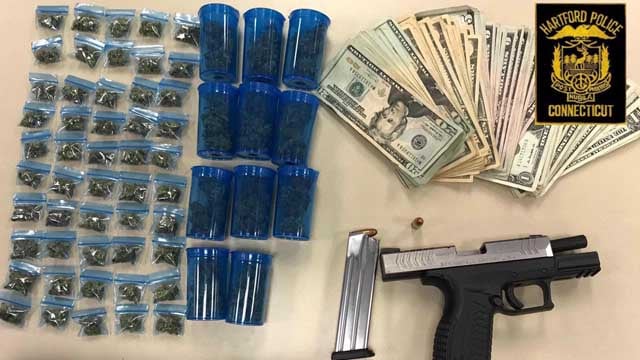 (Hartford police)
HARTFORD, CT (WFSB) -
A man with 31 previous arrests is accused of stealing a gun and displaying it in a Hartford bodega.
Officers said they charged Cory Brown, 43, of Hartford, with possession of a stolen firearm, having a pistol without a permit, criminal possession of a firearm, possession of a high capacity magazine, possession with intent to sell a controlled substance and possession of marijuana.
According to police, Brown showed the firearm on Monday around 9:15 p.m. at a bodega on Albany Avenue.
An eyewitness saw it happen and contacted a retired Hartford police officer.
The retired officer then contacted the police department.
Brown was arrested in the vicinity of 555 Albany Ave.
Police said he had a loaded 9mm Springfield Armory XDM with 17 bullets in his possession.
Brown also had 50 small bags and 11 plastic cylinders of marijuana, according to officers.
Copyright 2017 WFSB (Meredith Corporation). All rights reserved.