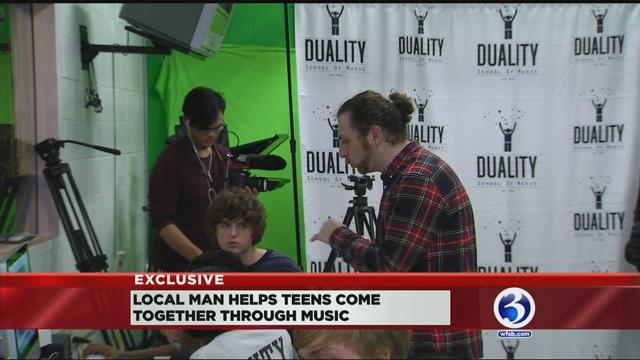 Jeff 'Gitty' Gitelman is helping teens come together through music. (WFSB)
WOODBRIDGE, CT (WFSB) -
What started out with a guitar found in the trash, has turned into a chance for students at Amity High School to connect through music.
Jeff 'Gitty' Gitelman, a musician from New Haven, has worked with artists like Alicia Keys and J. Cole. Gitelman even turned down a recording session with Emmy award-winning artist Mac Miller, in order to mentor thirteen students over a six-week music course.
Gitelman created this unique program to bring kids from different cultural and economic backgrounds together to create music.
"The results are so rewarding cause you actually see first hand the confidence," said Gitelman, "and you actually see them spreading their wings."
Student Chris Ransome, who was handpicked by Gitelman by word of mouth, said this experience tells him that he is more than capable of doing the same thing.
"And they basically teaching me something, and I can learn something from them," Ransome said.
At the end of this program, Gitelman hopes the young musicians will have learned the music business and collaborate with other students.
Copyright 2017 WFSB (Meredith Corporation). All rights reserved.