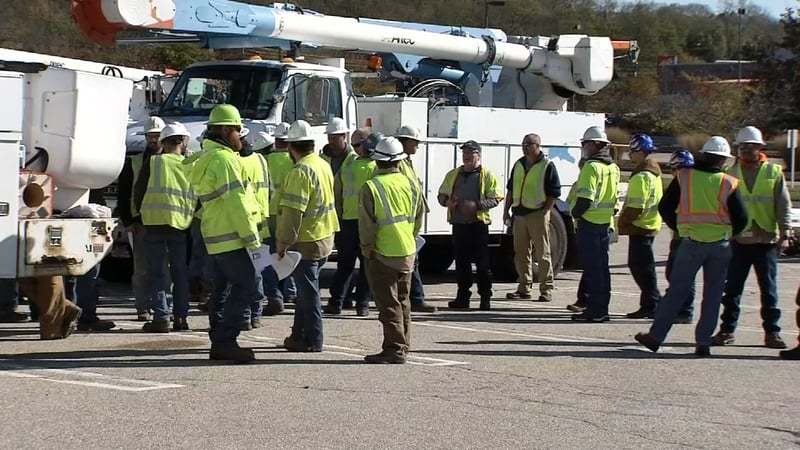 Out-of-state power crews gathered in Waterford on Tuesday to help Eversource with restoration efforts. (WFSB)
(WFSB) -
Thousands of customers remained without power as of Wednesday afternoon following Sunday night's intense storms.
Eversource reported more than 14,000 outages as of 3:45 p.m., mostly in eastern Connecticut towns.
"This has been painstaking work for our crews especially in the southeastern part of the state where the damage was so bad we are having to rebuild parts of the energy system," said Eversource Vice President of Electric Operations in Connecticut Michael Hayhurst. "The damage from this storm can't be overstated, with almost 200 utility poles broken, 56 miles of electric lines down and more than 200 blocked roads. Despite the challenges, we will work around the clock to get every last customer restored."
United Illuminating only reported 16.
Sunday's storms brought trees down onto power lines, homes and roads across the state.
Eversource said its crews continue to work around the clock to make repairs. It pulled in crews from out-of-state to help.
It expected to have power fully restored by Thursday.
A shelter will be opened at Lyman High School on Wednesday night. Residents can go to 917 Exeter Rd. from 6 p.m. to 8 p.m. for showers, water and charging stations.
Copyright 2017 WFSB (Meredith Corporation). All rights reserved.