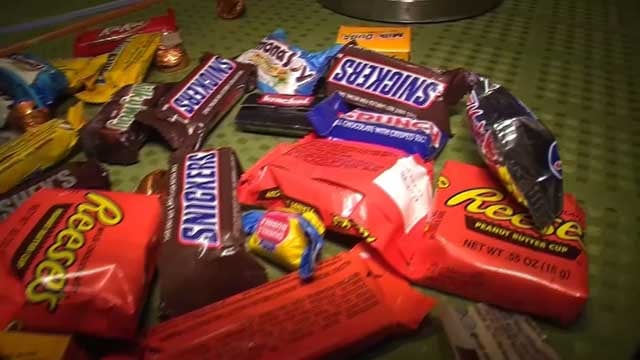 Police are investigating after a child was injured by Halloween candy (WFSB)
GROTON, CT (WFSB) -
A 1-year-old child was hurt by a "tainted" piece of candy while celebrating Halloween in Groton on Tuesday night.
Police said a small, thin piece of metal was located within the wrapper of at least one and possibly more Snickers Fun Size candy bars.
The mother of the child reported the discovery to City of Groton Police Department at 10 p.m. on Tuesday.
Police said the metal appears it was secreted in such a way that it could be easily missed.
There has only been one family affected by these "tainted" candies. However, police are advising all families check their candy closely and report to officers if they locate any foreign object in or around the candy.
"We have officers out right now going door to door trying to track down who gave out what candy," said Groton Lt. Eric Jenkin.
Police said they are aggressively investigating the incident and said they are aware reports are circulating on social media regarding this.
Police said they are following up any and all leads in this case.
Anyone with any information is asked to call the City of Groton Police Department at 860-445-2451.
Copyright 2017 WFSB (Meredith Corporation). All rights reserved.