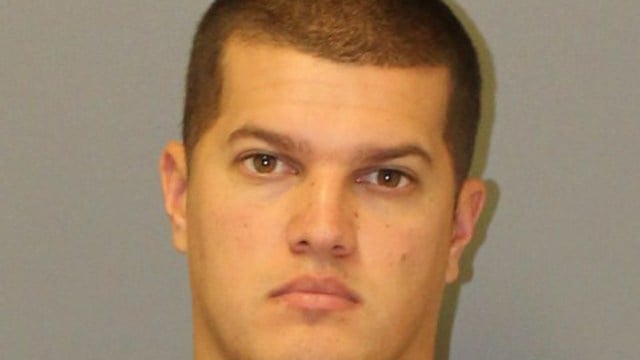 Christopher Masayda was arrested for stealing jewelry from a police charity event in Watertown. (State police)
WATERTOWN, CT (WFSB) -
An off-duty officer in Watertown was arrested for trying to rig and steal a charity raffle prize.
According to state police, 26-year-old Christopher S. Masayda snatched watch and bracelet worth $595 from a police golf charity event at the Crestbrook Park Golf Course on Northfield Road in Watertown.
The incident happened on Oct. 11.
Troopers said Masayda walked up to claim the raffle prize, but could not show the winning ticket to organizers, according to his arrest warrant.
The documents stated that he got into an argument with organizers, after which he returned the bag containing the prizes.
An eyewitness at the event later told police that he believed Masayda even tampered with the raffle drawings and recorded the behavior on a cellphone.
Masayda got into a physical argument with the person who accused him of stealing and tried to take the cellphone, according to state police.
Masayda was charged with fifth-degree larceny and second-degree breach of peace.
He turned himself in to state police and is scheduled to face a judge in Waterbury on Nov. 20.
Copyright 2017 WFSB (Meredith Corporation). All rights reserved.