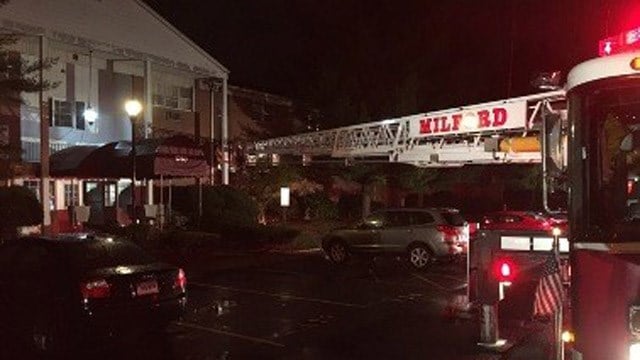 Firefighters battled a fire at an apartment complex on New Haven Avenue in Milford on Tuesday night. (Anthony Fabrizi/Milford Fire Dept.)
MILFORD, CT (WFSB) -
One person was able to escape a fire at a Milford apartment complex on Tuesday night.
According to firefighters, they responded to the complex on New Haven Avenue just before 7:30 p.m.
When they arrived, they found fire venting out of a 2nd floor window.
They said it was at risk of spreading into an apartment and attic space above it.
Firefighters were able to attack it from the inside and confined the fire to the 2nd floor unit.
However, smoke and water damage affected other units in the building.
The person who escaped the flames was able to get out before firefighters arrived, crews said.
The Red Cross helped those who were displaced by the fire.
A cause has yet to be released.
Copyright 2017 WFSB (Meredith Corporation). All rights reserved.