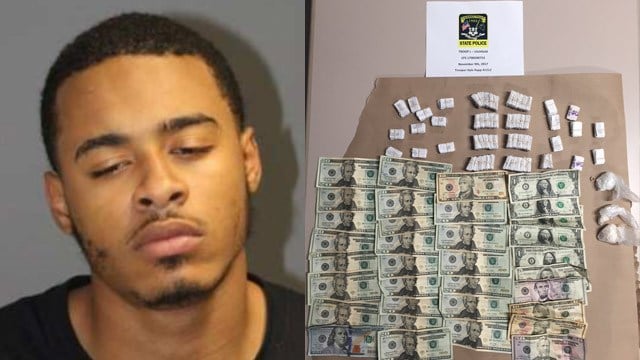 Tamir Raimo was arrested on drug charges after a vehicle pursuit that began with a crash in Waterbury. (State police)
WATERBURY, CT (WFSB) -
A suspect was arrested on an outstanding warrant and drug charges following a police pursuit in Waterbury.
State police said they pursued a vehicle on Thursday night in which 21-year-old Tamir Raimo was a passenger.
Troopers initially sought the vehicle after the driver fled a crash on Route 8 north near exit 36. The report came in around 5:45 p.m. on Thursday.
State police found the vehicle by exit 40 and were able to stop the driver.
While identifying the occupants, they found Raimo. Raimo was wanted on third-degree robbery charges.
While in custody, troopers said Raimo had two plastic grocery bags stuffed in his underwear. They contained 600 packets of heroin and about an ounce of crack cocaine. He also had $635 in cash on him.
Raimo is also a convicted felon.
State police charged him with possession of heroin with intent to sell and possession of cocaine with intent to sell.
He was released on a $10,000 bond and scheduled to face a judge in Torrington on Nov. 20.
The other people involved in the incident have not been identified.
Copyright 2017 WFSB (Meredith Corporation). All rights reserved.