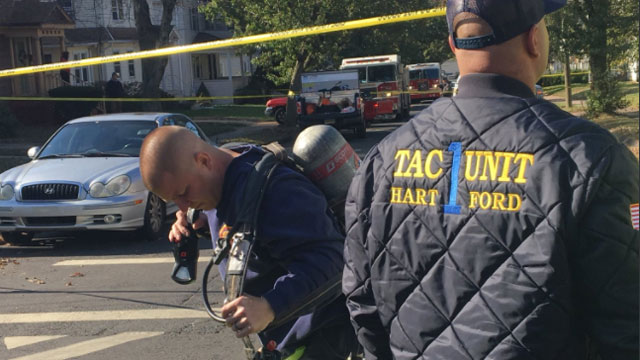 Firefighters, police officers and members of the Drug Enforcement Administration are investigating a "hazmat situation" in Hartford on Sunday morning. (@ortizraulHFD)
HARTFORD, CT (WFSB) -
Firefighters, police officers and members of the Drug Enforcement Administration were called to remove "a small amount of Opioid-related to a suspected overdose" from a building in Hartford on Sunday morning.
The "hazmat situation" was reported at 127-129 Freeman St. 9 a.m.
Hartford Police Deputy Chief Brian Foley said there was "no danger to anyone in the area."
DEA members left a red warning sign on the door of the Freeman Street building.
People on Freeman Street said they were just surprised to hear about the situation.
"We have a lot of kids on the street and they ride their bikes in the summer," Christine Rizzo, of Hartford, said. "So it's upsetting. It's a nice neighborhood."
People living in the first floor apartment have returned back home since the hazmat situation," but where the investigation happened on the second floor, as of Sunday night, residents have yet to return.
Copyright 2017 WFSB (Meredith Corporation). All rights reserved.