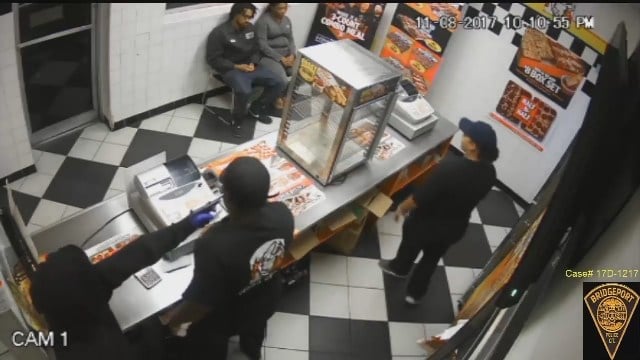 A robbery suspect holds a gun to the head of a Little Caesar employee. (Bridgeport Police Department)
BRIDGEPORT, CT (WFSB) -
Police have released surveillance video of a robbery at a pizza place in Bridgeport last week.
The robbery took place at the Little Caesars on North Avenue on Nov. 8.
In the video, the suspect can be seen walking into the pizza shop and pointing a silver handgun at two people waiting for their pizza. The male suspect can then be seen pointing the gun and holding it to the heads of the two workers while they get him the money.
There was no word on injuries or how much money was taken during the robbery.
Anyone with any information is asked to call the Bridgeport Police Robbery Squad at 203-581-5229 or the tipline at 203-576-8477.
To see the full video on your mobile device, click here.
Copyright 2017 WFSB (Meredith Corporation). All rights reserved.