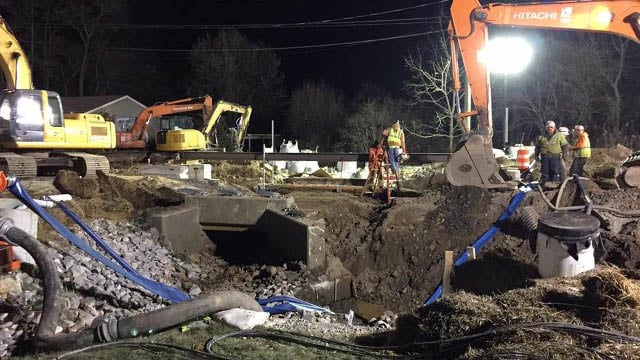 Courtesy Old Saybrook Police.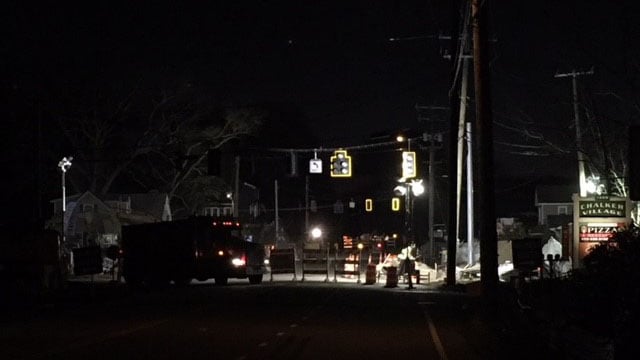 (WFSB)
OLD SAYBROOK, CT (WFSB) -
A busy section of Route 1 in Old Saybrook remains closed for the demolition and construction of a new bridge.
According to the Connecticut Department of Transportation, the project was scheduled to take five days to complete and the Route 1 bridge would reopen by 5 a.m. Wednesday.
However, DOT officials said Route 1 by Center Road will not reopen until Saturday.
Detours are in place around the area. Drivers can take Interstate 95 to get to other areas of town. For real-time traffic updates, check the Channel 3 traffic map here.
DOT officials told Eyewitness News the bridge is being replaced using a technique called ABC – or, accelerated bridge construction. The major components are manufactured off-site. These parts need to then be trucked in, and the new bridge components need to be dropped into place.
The runways up to the bridge are now gravel, and DOT officials said they don't want to open this stretch of road back up until everything is paved.
Paving will be taking place on Friday.
DOT officials said Route 1 will be back to normal by the weekend.
Copyright 2017 WFSB (Meredith Corporation). All rights reserved.