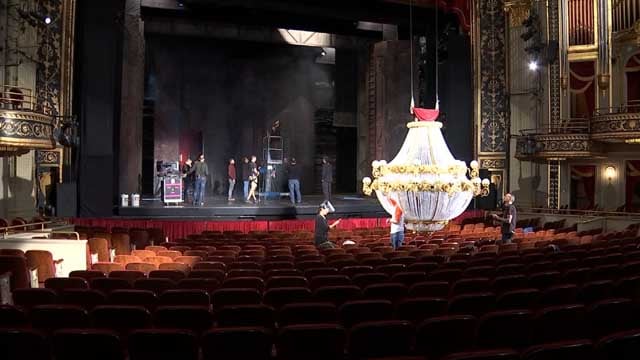 Crews are working to set up for the Phantom of the Opera performance in Waterbury (WFSB)
WATERBURY, CT (WFSB) -
The hit musical "Phantom of the Opera" is coming to Waterbury's Palace Theater.
The North American Production Company said this version takes a more "human" approach to Andrew Lloyd Webber's 30-year-old masterpiece.
Audience members can expect a darker performance with new technology for lighting, sound and set design.
The Palace Theater officials said this is the only theater in the state large enough to host a production like this.
"It's such an incredible group of performers. To see them is to understand it and not to see them, it's impossible to describe how beautiful the ensemble work is," said Derrick Davis, who is an actor with the Phantom of the Opera production.
The show is at the Palace Theater for the next 10 days.
Copyright 2017 WFSB (Meredith Corporation). All rights reserved.