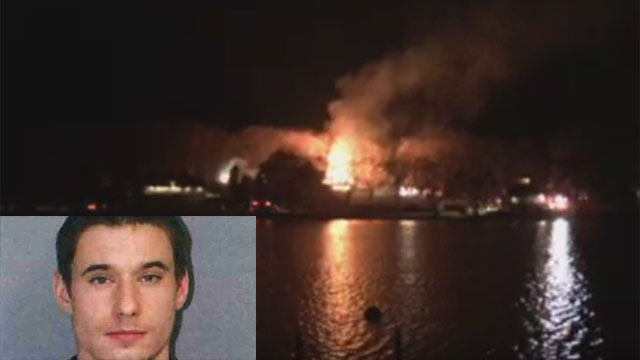 Daniel Hunchak was arrested on Thursday in connection with an arson fire at an abandoned lodge in Morris last month. Credit: Steve Kohout/State Police
Saturday, October 28 2017 10:51 PM EDT

2017-10-29 02:51:38 GMT

Saturday, October 28 2017 10:51 PM EDT

2017-10-29 02:51:38 GMT

Crews are responding to a large fire at a lodge in Morris on Saturday night.

More >

Crews are responding to a large fire at a lodge in Morris on Saturday night.

More >
MORRIS, CT (WFSB) -
A 22-year-old man was arrested on Thursday in connection with an arson fire at an abandoned lodge in Morris last month.
A large fire was reported at the Bantam Lodge located on Route 209, or Bantam Lake Road, on Oct. 28.
The lodge has been non-operational for years, state police said.
Police charged Morris resident Daniel Hunchak was first-degree arson and third-degree burglary. He is being held on a $100,000 bond and is scheduled to be arraigned at Bantam Superior Court on Friday.
Copyright 2017 WFSB (Meredith Corporation). All rights reserved.