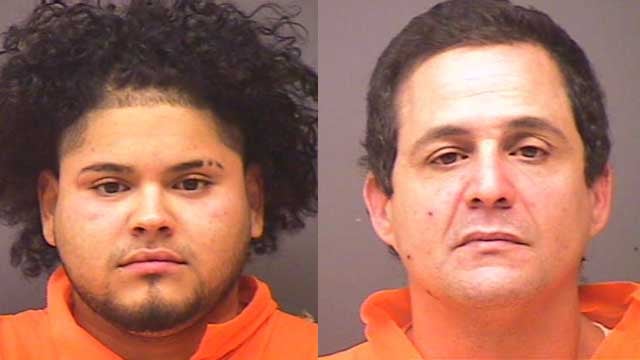 Jeremy Cruz and Luis Munoz were arrested for jumping a man and stealing his car in Norwich, police said. (Norwich police)
NORWICH, CT (WFSB) -
A report of a man being jumped and having his car stolen in Norwich led to the arrests of two men and a teenager.
Police said 21-year-old Jeremy Cruz, 42-year-old Luis Munoz and an unidentified 17-year-old were arrested for the crime.
Officers responded to a report of an armed person near 365 Hamilton Ave. just before 4 p.m. on Sunday.
When they arrived, they said they found the victim suffering from head and face wounds.
The victim said three people pointed a gun at him, jumped him, then stole his car.
They fled to 363 Hamilton Ave., where police said they found them.
All three suspects face charges of breach of peace, second-degree assault, first-degree robbery and interfering with an officer.
They were held on bond.
The victim was treated and released from the hospital, police said.
Copyright 2017 WFSB (Meredith Corporation). All rights reserved.