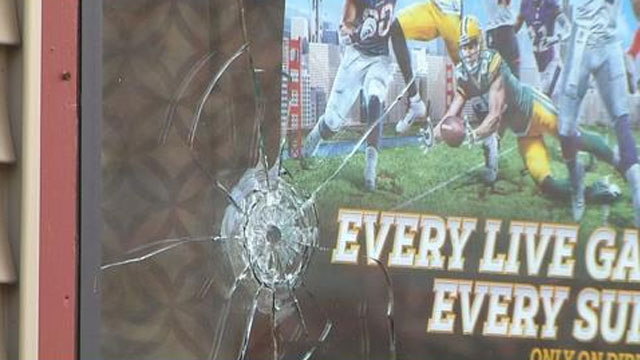 Police are investigating a shooting at Red Room Grille in Meriden this weekend. (WFSB)
MERIDEN, CT (WFSB) -
Police are investigating a shooting inside a Meriden bar early Saturday morning.
Officers were called to a report of shots fired at the Red Room Grille on N. Colony Road around 1:45 a.m. When officers arrived, police said they learned that "numerous shots" were fired inside the bar and they located "multiple shell casings."
Police said they learned about a gunshot victim at the Midstate Medical Center while they were gathering evidence. Upon arrival, officers determined that the unidentified man had been shot while inside the Red Room Grille. The injuries to the man were non-life-threatening and police said he has since been treated and released from the Midstate Medical Center.
On Monday, the Department of Consumer Protection issued a "summary suspension" for the establishment.
A press release said "in a letter to DCP, Police Chief Jeffry Cossette wrote to Director of Liquor Control John Suchy that 'On November 18, 2017, Meriden Police responded to the Red Room Grille for a report of shots fired within the bar. The investigation revealed that a male victim was shot inside the bar. Numerous shell casings were found inside the bar.' The chief went on to described that the person in charge of the bar attempted to deny Meriden officers access inside the bar."
"I would like to thank Chief Cossette and the men and women of the Meriden Police Department for their cooperation and timely communication regarding this serious matter," said Consumer Protection Commissioner Michelle H. Seagull, "Our relationship with local law enforcement allows us to do our job as effectively as possible, and helps make sure those who visit liquor establishments in the state are safe."
The investigation into the bar shooting is "on-going" as police said they did not have any suspects or a motive for the incident. Anyone with any information about the shooting is asked to call the Meriden Police Department at 203-630-6318.
Copyright 2017 WFSB (Meredith Corporation). All rights reserved.