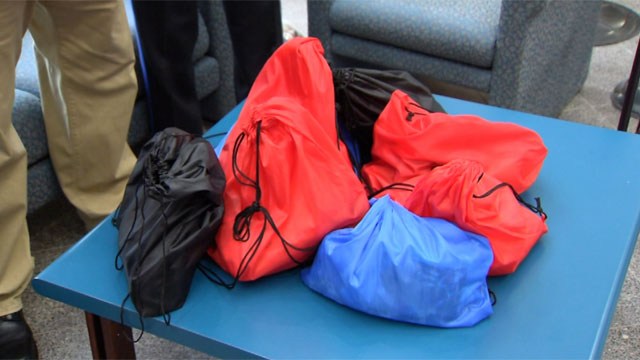 Connecticut State Police receives donation of winter bags for the homeless. (WFSB)
MIDDLETOWN, CT (WFSB) -
Connecticut State Troopers received a donation of winter bags for the homeless from their friends at Massachusetts State Police.
On Wednesday morning, Bob "The Bike Man" Charland, of Springfield, MA, and the Massachusetts State Police traveled to the headquarters of the Connecticut State Police Headquarters in Middletown where they donated 80 first responder winter bags.
The bags will be given to Troop A - Southbury, Troop G - Bridgeport and Troop H - Hartford, where troopers will carry the bags in their cruisers to give to those in need.
Charland came up with the idea of First Responder Winter Bags for the Homeless. The bags contain the following items:
foot/hand warmers
hats, gloves, socks
toothbrushes/toothpaste
soap
lotion
baby wipes
meal replacement shakes
food
blankets
some contain feminine hygiene products
This is not the first time Charland, who is terminally ill, has given back to the community. Earlier this year, he founded the non-profit organization called Pedal Thru Youth. This organization provides bicycles to less fortunate children, with the goal that all children should have the chance to live an active life. More than 300 bicycles have been given out to children in the Springfield and Worchester, MA area.
Copyright 2017 WFSB (Meredith Corporation). All rights reserved.