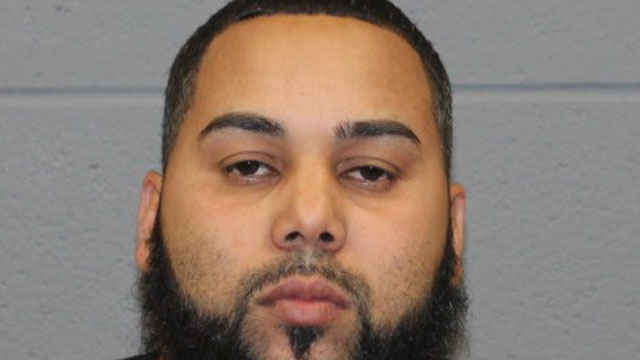 Police arrested Victor Collado Paez in the crash that killed a pedestrian in Waterbury on Sunday night. (Waterbury Police Department)
Sunday, November 26 2017 5:48 PM EST

2017-11-26 22:48:30 GMT

Sunday, November 26 2017 6:07 PM EST

2017-11-26 23:07:43 GMT

Police in Waterbury are investigating after a man was struck and killed by a car.

More >

Police in Waterbury are investigating after a man was struck and killed by a car.

More >
WATERBURY, CT (WFSB) -
Police arrested a man in the crash that killed a pedestrian in Waterbury on Sunday night.
Victor Manuel Collado-Paez, 32, faces charges of felony evading and operating without a license.
Police said Paez was behind the wheel of a 2004 Buick Rendezvous when he hit and killed 74-year-old Daniel Hernandez a little before 5 p.m. on West Main Street.
Police said the impact of the crash threw Hernandez and he became "pinned under an unoccupied and parked Dodge Ram Pickup truck" in front of 460 West Main St. Hernandez was rushed to Saint Mary's Hospital where police said he died from injuries suffered in the crash.
Collado-Paez "initially fled the scene," but police said he returned a short time later.
The Waterbury Police Department said the crash "continues to be under investigation."
This comes less than a week after four people, including two children, were hit by a car that was evading police. A 3-year-old was killed in that crash.
Copyright 2017 WFSB (Meredith Corporation). All rights reserved.