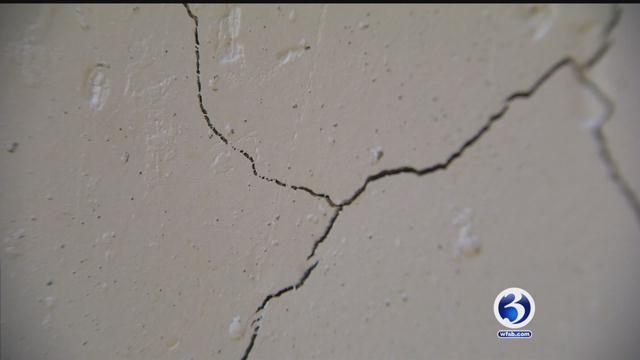 (WFSB file photo)
HARTFORD, CT (AP) -
A potential tax write-off for Connecticut homeowners with crumbling foundations is potentially at risk in Congress.
Democratic Sens. Richard Blumenthal and Chris Murphy were attempting Thursday to amend the Republican Senate tax bill, which abolishes the tax deduction for property casualty losses except those stemming from federally declared disasters.
"The repeal of the casualty loss deduction would cruelly reverse the relief granted for homeowners who have suffered severe and costly property damage due to extenuating circumstances beyond their control – from fires, to vandalism, to crumbling foundations," Blumenthal said in a statement on Thursday. "I've heard firsthand from Connecticut homeowners who have endured extreme financial and emotional stress because of property damage. Federal relief—not a bait and switch betrayal-- is needed now more than ever. This duplicitous repeal is further evidence that this tax plan is truly a tremendous tax scam. I am proud to work with Senator Murphy on measures to oppose this cruel and shortsighted move, and determined to protect the casualty loss deduction from ruinous repeal."
"Just a week after the Trump administration agreed to provide help to homeowners in Connecticut, Senate Republicans are trying to screw it up. People living with crumbling foundations have been through so much already. They don't deserve to be jerked around like this. This is another reason we're fighting tooth and nail against this disaster of a bill," Murphy said in a statement on Thursday.
Homeowners learned last week that the Internal Revenue Service had agreed that taxpayers with foundations deteriorating because of the presence of an iron sulfide can deduct 75 percent of their unreimbursed repair costs from their federal taxes as a casualty loss.
Blumenthal says it's unclear if his and Murphy's amendment restoring the deduction will be called.
He says there's a chance homeowners can claim the deduction if they have written proof of a loss by the end of the year.
Copyright 2017 The Associated Press. All rights reserved. This material may not be published, broadcast, rewritten or redistributed.