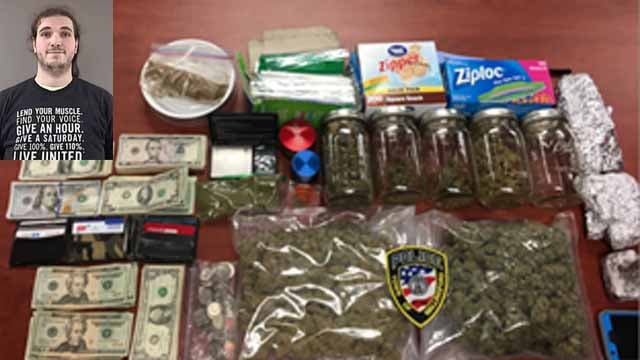 Trent Holmes was arrested on Tuesday (Wallingford police)
WALLINGFORD, CT (WFSB) -
A Middletown man is facing charges after police said he was in possession of more than one-and-a-half pounds of marijuana.
Wallingford police were called to a parking lot on Toelles Road on Tuesday, following a complaint about a strong odor of marijuana.
When officers arrived, they found two people in the car and saw a large bag of marijuana in plain view in the back seat.
Officers found more marijuana inside the car, along with packaging materials, digital scales, and marijuana laced brownies and rice crispy treats.
Police identified the driver of the car as 25-year-old Trent Holmes.
The total amount of marijuana seized was over one-and-a-half pounds and $1,200 in cash was taken from Holmes.
He was arrested and charged with possession of marijuana with intent to sell, possession of marijuana, and possession of drug paraphernalia.
He is expected to appear in court on Dec. 19.
Copyright 2017 WFSB (Meredith Corporation). All rights reserved.