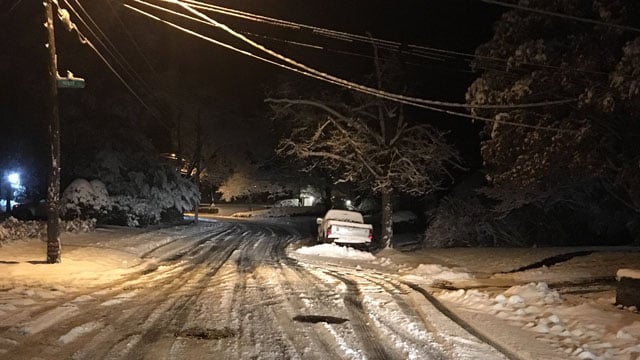 Snow-covered roads remained in New Britain on Sunday morning. (WFSB)
NEW BRITAIN, CT (WFSB) -
Drivers were greeted with plowed, but still snow and slush-covered roads on Sunday morning.
Winter Storm Ali exited the state overnight, but the cleanup will continue.
It was the first official winter storm of the 2017-2018 season.
Cities like New Britain saw messy conditions on the roads.
Channel 3's Early Warning Weather Tracker spotted workers clearing roads and sidewalks.
It recorded the temperature in New Britain around 6:30 a.m. at 28 degrees, so icy conditions were possible.
Channel 3's Patricia Del Rio said conditions were more slippery than they appeared.
Between 8 a.m. on Saturday and 6:30 a.m. on Sunday, state police said they responded to 354 crashes, 31 with injuries.
For real-time traffic updates, check the Channel 3 traffic map here.
Copyright 2017 WFSB (Meredith Corporation). All rights reserved.