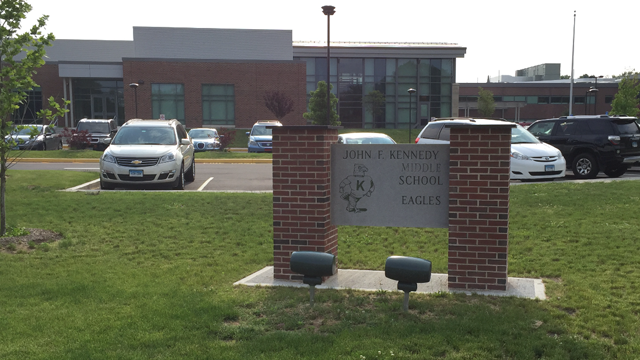 The John F. Kennedy Middle School in Southington (WFSB file photo)
SOUTHINGTON, CT (WFSB) -
School officials in Southington informed parents on Thursday afternoon after rumors about guns being brought to school started circulating.
Superintendent of Schools Tim Connellan said Southington police were notified by a parent that their child overheard two students discussing a gun video at J.F.K. Middle School on Thursday.
Connellan said police and school administrators investigated and found that two students were "play acting shooting" at one another with their hands held in the shape of guns.
"Apparently one of the students made an additional comment about a family friend who possessed a gun that was overheard by other students," Connellan said.
He added that the two students didn't direct their "play acting" toward any other students, but this led to rumors being passed around on the school bus Thursday afternoon about students "bringing a gun to school."
The families of the two students were contacted and interviewed.
Southington police said there is no threat to the safety of students at JFK at this time.
Copyright 2017 WFSB (Meredith Corporation). All rights reserved.