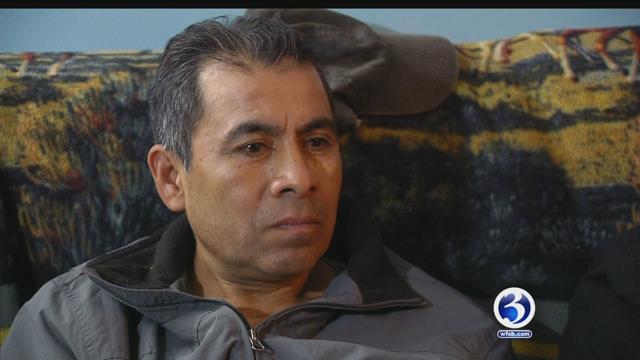 Mariano Cardoso Sr. was expected to be deported on Dec. 15. (WFSB)
OLD LYME, CT (WFSB) -
A Connecticut man who was supposed to be deported on Friday was granted a stay.
Mariano Cardoso Sr. was ordered to return to Mexico by Hartford I.C.E.
He has lived in the United States for 27 years and spent 17 of them in New Britain.
On Friday, Cardoso Sr. sought sanctuary at the First Congregational Church in Old Lyme. Later in the day it was learned that he was granted a stay.
He owns a landscaping company in New Britain and records show that he has never been convicted of a crime.
He has three children, two of whom were born in the country and are U.S. citizens.
Cardoso's family said he came to the U.S. in 1990 from Mexico and tried to seek asylum. However, he was denied because his lawyer made a mistake on the paperwork.
When he was told to leave the country, he did.
He eventually returned and settled in Connecticut.
Over the years, his family said he's been granted stays until 2011 when he was set to be deported again.
Copyright 2017 WFSB (Meredith Corporation). All rights reserved.