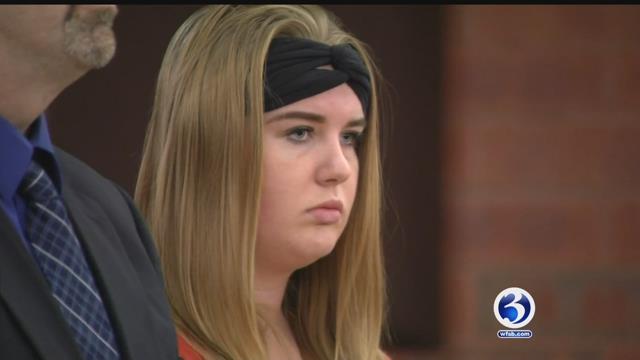 Brianna Brochu during a previous court appearance. (WFSB file)
HARTFORD, CT (WFSB) -
An ex-University of Hartford student accused of tainting her roommate's things with bodily fluids was on the docket to face a judge on Monday.
Brianna Brochu pleaded "not guilty" in Hartford Superior Court.
She is charged with misdemeanor criminal mischief and breach of peace; however, civil rights advocates said they're waiting to see if hate crime charges will be filed.
According to police, Brochu admitted to rubbing used tampons on her black roommate's backpack, spitting in her food and putting her toothbrush "where the sun don't shine."
She then bragged about getting rid of her roommate in an Instagram post.
Her roommate, whom identified herself as Jazzy Rowe, said in a public Facebook video that she developed a sore throat as a result.
Brochu was first charged in October.
Her first court appearance on Nov. 21 was in a packed room.
While the NAACP has called for hate crime charges, police said they're still investigating.
Brochu's attorney said his client's motives were not motivated by race.
Copyright 2017 WFSB (Meredith Corporation). All rights reserved.