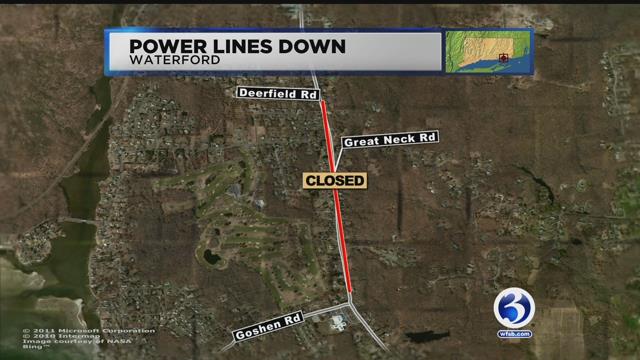 The road closure of Route 213 comes after a garbage truck with its bed up that tore down phone and cable lines, authorities said. (WFSB)
WATERFORD, CT (WFSB) -
The power has been restored after "numerous power lines" were down on Great Neck Road on Wednesday morning, police said.
Route 213, which is also known as Great Neck Road, was closed from Deerfield Road to Goshen Road around 9:15 a.m. To get around the road closure, click here.
The road closure comes after a garbage truck with its bed up that tore down phone and cable lines, authorities said. While power lines never came down, the power was cut automatically when the accident occurred.
Residents in that area are being asked to stay indoors and traffic is being diverted from Route 213. Anyone in need of getting out of their homes is asked to talk to officers.
There were about 1,000 Eversource customers without power. Eversource spokesman said a crew was called to the scene and the power was restored to those customers later that morning.
Police also reminded residents to treat every line as active.
The road closure is expected to last hours, police said.
Copyright 2017 WFSB (Meredith Corporation). All rights reserved.