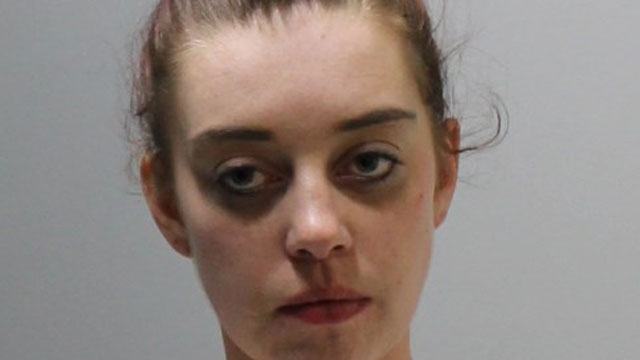 Nicole Hunter was arrested after police said she tried to snort cocaine at the Ledyard Police Department while she was under arrest on Christmas Day.  (Ledyard Police Department)
LEDYARD, CT (WFSB) -
A 25-year-old woman was arrested after police said she tried to snort cocaine at the Ledyard Police Department while she was under arrest on Christmas Day.
Police charged Ledyard woman Nicole Hunter with possession of narcotics, interfering with an officer and disorderly conduct.
The arrest of Hunter comes after officers were looking for an "erratic" driver in a black Kia SUV with New Hampshire license plates. Police said they found the SUV parking on Meeting House Lane with Hunter inside.
Police said Hunter was "uncooperative" with officers and "was screaming outside in a residential neighborhood."
Hunter was arrested and taken to police headquarters.
While inside, officers saw Hunter pull "a pink powdery substance wrapped in paper out of her pocket." Police said she "unsuccessfully tried to snort the powdery substance." The substance tested positive for cocaine, police said.
After being released on bond, Hunter is due to be arraigned at New London Superior Court on Jan. 8.
Copyright 2017 WFSB (Meredith Corporation). All rights reserved.