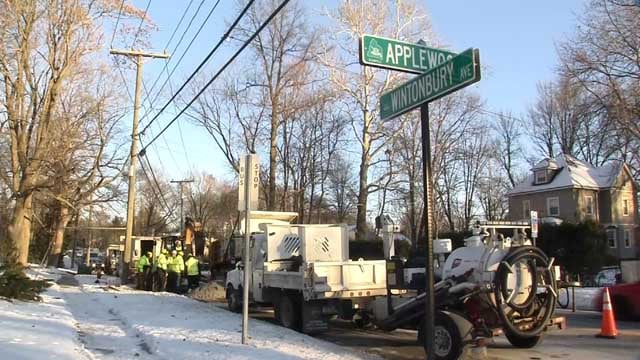 Crews are working to repair a water main break in Bloomfield (WFSB)
BLOOMFIELD, CT (WFSB) -
Officials said 12 homes in Bloomfield were impacted by a water main break on Thursday.
The break happened on Wintonbury Avenue on Thursday afternoon around 3:30 p.m.
Repairs were expected to take between six and eight hours, but were completed by 5 p.m.
Homes on Wintonbury Avenue to Woodland Avenue were impacted by the break.
Officials from the Metropolitan District said the cold weather is a factor in water main breaks.
"The ground freezing, heaving, and moving can cause pipes to break. The age of the pipe, pipe materials, and subsurface conditions can all also contribute to a break, as breaks can, and do, occur in temperate conditions as well; however, extreme cold typically causes an uptick in the occurrence and severity of breaks," officials said.
Copyright 2017 WFSB (Meredith Corporation). All rights reserved.