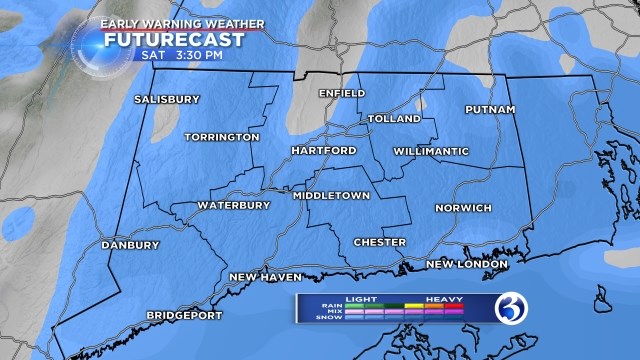 Early Warning Weather Futurecast shows most of the state getting snowfall later on today. (WFSB)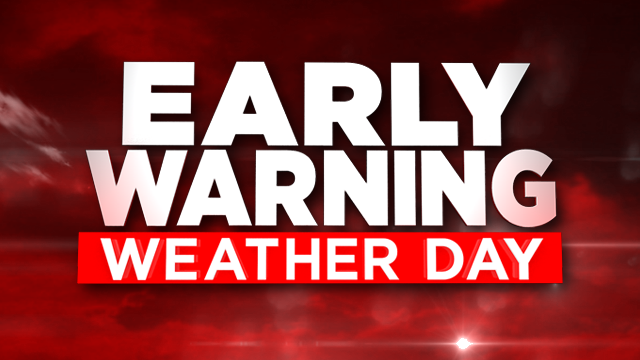 (WFSB)
HARTFORD, CT (WFSB) -
It's an Early Warning Weather Day for your Saturday as most of the state could see anywhere from a coating to 3" of snowfall.
In addition, the brutally cold temperatures will continue to hang around. Leaving many of us waking with temperatures in the single digits or approaching zero.
Meteorologist Mike Cameron said the snow Saturday will start mid-morning and should exit the state shortly after noon time.
However, we could see pop-up on and off snow showers throughout the remainder of the day. Just enough to slicken roads back up. In addition, a Department of Transportation spokesperson said crews are not able to pre-treat roads as the salt brine would freeze immediately after applied leading to icing conditions.
The DOT says they will have their crews ready to clear roads though for any snow that falls.
During the day temperatures will move into the 20's, but it will be a short-lived "warm-up". As we approach the evening hours through the clouds will clear out allowing temperatures to take another nose dive down in to the single digits for most of us.
The cold weather continues to Sunday for New Year's Eve. Get all the details on the full forecast in the Technical Discussion here.
Make sure you download the WFSB app on your smartphone or table too so you can stay informed of changes to the forecast and weather alerts.
Copyright 2017 WFSB (Meredith Corporation). All rights reserved.