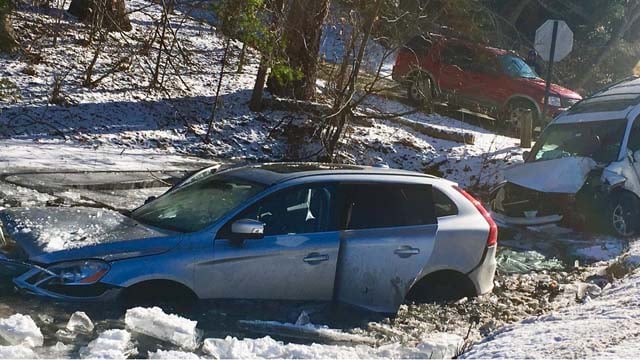 One vehicle ended up in a pond in Essex after a two vehicle crash on New Years Day. (State police)
ESSEX, CT (WFSB) -
A crash involving two vehicles resulted in one of them ending up in a pond in Essex.
State police said 19-year-old August Cummins of Old Lyme rear-ended a vehicle on Route 154 on Monday night.
Troopers said 20-year-old William Visgilio of Old Lyme had slowed to make a right turn onto Fordham Road when he was struck from behind by Cummins.
Visgilio's vehicle came to rest in a small pond just north of Fordham Road.
Troopers said both vehicles had to be towed due to heavy disabling damage.
No one was hurt.
The exact cause of the crash remains under investigation.
Copyright 2017 WFSB (Meredith Corporation). All rights reserved.