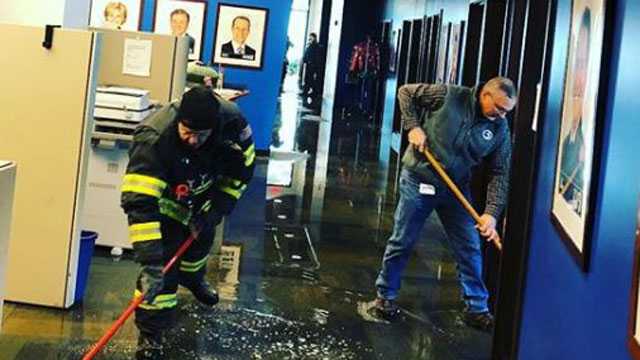 ROCKY HILL, CT (WFSB) -
A sprinkler pipe burst inside Channel 3's building in Rocky Hill on Tuesday morning.
Channel 3 was forced to preempt its noon broadcast and instead air an episode of its afternoon program, Better Connecticut.
"Due to the extreme cold weather a sprinkler pipe for the fire suppression system burst over the lobby at Broadcast House," said Klarn DePalma, Channel 3's general manager. "There is minimal damage to the building. Programming continues to air on our station."
No injuries were reported.
Channel 3 expected to continue with its regularly scheduled broadcasts starting with Better Connecticut at 3 p.m. and Eyewitness News at 5 p.m.
Copyright 2017 WFSB (Meredith Corporation). All rights reserved.