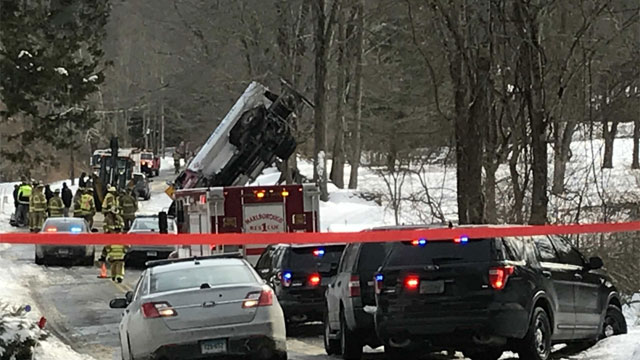 An oil truck rolled over onto South Road in Marlborough on Monday morning. (WFSB)
MARLBOROUGH, CT (WFSB) -
An oil truck is on its side after a rollover crash in Marlborough on Monday morning.
An oil truck was making a delivery in the 100 block of South Road around 11 a.m.
According to a spokesman for Connecticut Department of Energy and Environmental Protection, the truck's emergency brake "appears to have failed," which caused the vehicle "to roll down a hill before striking a tree."
DEEP officials said 500 gallons of oil spilled out of the truck and onto South Road and snow. DEEP officials added the oil "is believed to be contained at this time."
The oil company, which name was not released by DEEP, has hired a contractor to help with the cleanup efforts.
South Road was closed due to the crash. To stay ahead of delays, click here.
There was no word on injuries
The cause of the crash was under investigation.
Refresh this page and watch Channel 3 for updates.
Copyright 2018 WFSB (Meredith Corporation). All rights reserved.