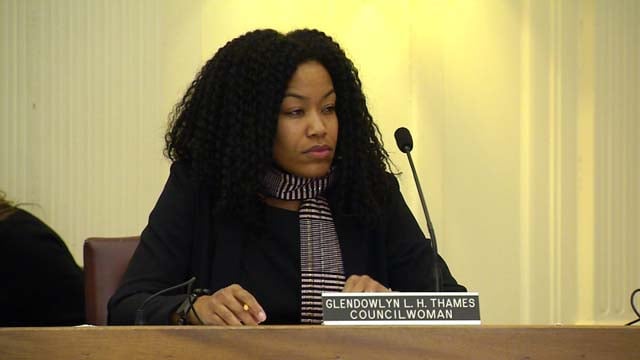 Glendowlyn Thames was appointed city council president on Monday (WFSB)
HARTFORD, CT (WFSB) -
On Monday evening, Hartford's City Council voted on a new president.
City Councilor Glendowlyn Thames was appointed as Hartford's City Council President.
She would ultimately become mayor if Mayor Luke Bronin were to become governor.
The term of now former Council President TJ Clarke ended on Monday. He's under fire for sexual misconduct allegations by a former council aide.
In the 57-page complaint, a former city aide says she was a victim of sexual harassment and discrimination on the job.
Dozens of text messages were filed with the state's Commission on Human Rights and Opportunities and forwarded to the city.
The complaint names City Council President Thomas "TJ" Clarke, City Clerk John Bazzano, and former council assistant Olga Colon.
The woman alleges she was discriminated against while working at City Hall because she is white.
In the complaint, she also details instances of sexual harassment and inappropriate text messages she says "Clarke," the council president, sent her, including one she says she got as she left for vacation which read: "Have fun on your trip. Don't slip up and send me any see thru bikini pics."
Copyright 2018 WFSB (Meredith Corporation). All rights reserved.