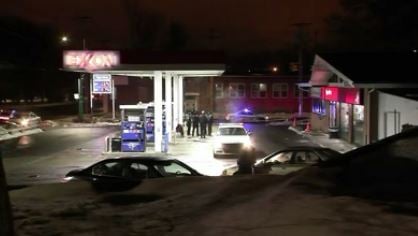 Police said they responded to reports of shots fired near the Exxon Gas Station Convenience Store on Friday morning. (WFSB)
NEW HAVEN, CT (WFSB) -
New Haven Police arrested a suspect for a murder on Friday.
Police arrested 31-year-old New Haven man Joshua James Council for the shooting murder of 35-year-old Kenneth Nathaniel Cooper on Friday.
New Haven Officer Paul Vitale spotted Council while on his 'beat' on Saturday morning, arrested Council and charged him with murder, criminal possession of a pistol without a permit, and violation of probation.
Police said they responded to reports of shots fired near the Exxon Gas Station Convenience Store at the intersection of Whalley Avenue and Fitch Street at about 3 a.m. on Friday morning.
Detectives took witness interviews and determined a man who had been checked in New Haven Hospital with a gunshot wound prior was Cooper.
Cooper died at the hospital shortly after his arrival, police said.
Police said neither Cooper nor the woman who drove him to the hospital were associated with the gas station.
Council is being held at the New Haven Police Department on a $1,000,000 bond.
Copyright 2018 WFSB (Meredith Corporation). All rights reserved.